By Admin on February 1, 2016
We are excited to announce Blues In A Bottle won The Blues Foundation's Best Self-Produced CD at the 2016 International Blues Challenge in Memphis! Friend and fellow Iowan, Matt Woods' excellent album, Sawdust & Gasoline, was also among the top five finalists in the competition. In 2005, The Blues Foundation introduced the Best Self-Produced CD (BSPCD) contest […]

By Admin on December 15, 2015
We are pleased to announce Rob will be inducted into the Iowa Blues Hall of Fame on Friday, February 12 2016. Other 2015 class inductees include Shaun Murphy, Jeff Petersen and Andre Mosqueda. The induction ceremony is held in conjunction with Central Iowa Blues Society's Winter Blues Fest. More info about the Central Iowa Blues […]

By Admin on June 5, 2011
Photos from Rabbit Hash–On the banks of the Ohio River
Posted in Photos

By Admin on November 21, 2010
Live at Blues On Grand with the Thunderbolts. Filling in for Matt Woods one night…
Posted in Photos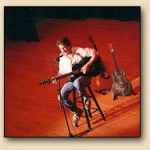 By Admin on June 8, 2006
Full song mp3 downloads of "Natch", "Do You Know What It Means To Miss New Orleans" and "I Can't Be Satified" from the Lumbard & Lloyd CD are available–FOR FREE! Also, due to popular demand… the full song mp3 download of Rob's "Snip Snip" from Live At Flanagan's is available below!
Posted in News

By Admin on June 24, 2005
Miscellaneous photos through the years…
Posted in Photos

By Admin on July 7, 2004
Rob Lumbard & Friends backup Music Maker Relief artists Lee Gates and Sweet Betty at the 2004 Mississippi Valley Blues Fest.
Posted in Photos
By Admin on July 8, 1995
Des Moines Register review by Patrick Beach gives Lumbard's Live At Flanagan's CD four stars! CLICK HERE to download a .pdf of the article.
Posted in Press