Biography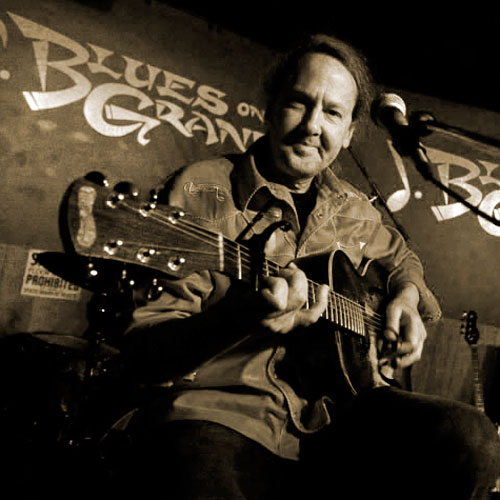 Rob received his musical education in the barrooms of Forest Avenue  in his home town of Des Moines, Iowa, sitting in with the likes of Rose Marie Webster, Luther Allison, Sonny Terry and Brownie McGhee.
During the '80s he barnstormed the midwest in The Wapsie River Band, then in 1990 went back to playing solo. Opening up for Lyle Lovett, The Band, John Hiatt, The Austin Lounge Lizards, Dan Hicks, Jerry Jeff Walker, Norman Blake, Steve Forbert, Leon Redbone, and dozens of Blues acts. This, coupled with a legendary weekly gig at Flanagan's, lead to recording three cds on the Hot Fudge label and being a part of the trio Two Bobs and a Babe that included label-mates Bob Dorr and Molly Nova.
Blues/Folk based, he can cover Jazz or blues standards, or do a set of  his own tunes. His finger-picking style comes from listening to Blind Blake, Doc Watson and prewar Chicago Blues players. His slide playing influenced by Johnny Winter, Lowell George and Ry Cooder. For slide Rob uses a '32 National Duolian. For most of the regular guitar work his '35 Epiphone archtop, or '54 Gibson Lg-2. His songwriting is heavily influenced by the Texas songwriters and is laced with self-deprecating humor.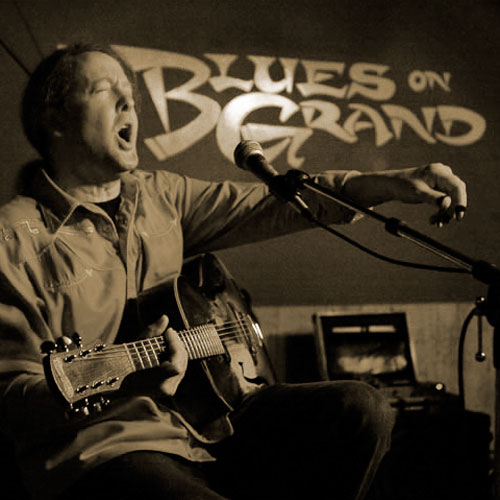 This year he'll be playing festivals, bar rooms, churches and private parties from here to Rabbit Hash, Kentucky. Mostly a solo act, he's also played guitar for The CJC Big Band,The Party Gras Classic Jazz Band, and The NOLA trad Jazz  band. Rob's songs can be heard on KUNI, KFMG and radio stations in Europe. His music has appeared in several Public Television projects, which have received EMMY, and other awards.
Rob's 2015 release, Blues In a Bottle, won The Blues Foundation's 2016 Best Self-Produced CD award.
Rob is an honorary member of the Central Iowa Blues Society, the Iowa Blues Hall of Fame and has participated in the Blues in the Schools programs with Fruteland Jackson, and Billy Branch.
Festivals and other larger shows include: Mississippi Valley Blues Festival, Northland Bluegrass Fest, LaCrosse Folk Fest, Bowlful O Blues, Harkin Steak Fry,and The Val Air Ballroom.