Archives by date
You are browsing the site archives by date.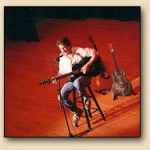 By Admin on June 8, 2006
Full song mp3 downloads of "Natch", "Do You Know What It Means To Miss New Orleans" and "I Can't Be Satified" from the Lumbard & Lloyd CD are available–FOR FREE! Also, due to popular demand… the full song mp3 download of Rob's "Snip Snip" from Live At Flanagan's is available below!
Posted in News